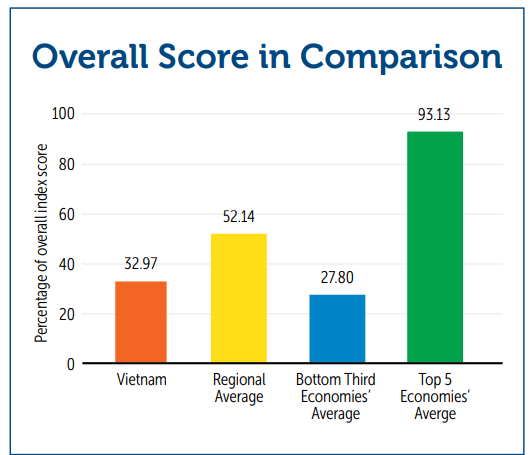 Date: 31-10-2018 by: Banca IP Law Firm
Vietnam improved in International Intellectual Property Index, conducted by US Chamber of Commerce
The U.S. Chamber of Commerce Global Innovation Policy Center (GIPC) released its sixth annual International IP Index, "Create" which analyzes the intellectual property (IP) climate in 50 world economies. The report ranks economies based on 40 unique indicators that benchmark activity critical to innovation development surrounding patent, trademark, copyright, and trade secrets protection.
Specifically, Vietnam scored 13.19/40.00 points, before Thailand, India, Argentina,…and after Philippines, South Africa, Brazil, Russia, Peru,… The ranking has recorded an increase of 3% from the previous ranking in 2017 with only 10.34/35.00 points.
According to the key findings of the report, the majority of the economies benchmarked in the Index are building more effective foundations for IP policy. Indonesia, Thailand, and Vietnam each have long-standing programs to enhance coordination among government agencies responsible for IP enforcement.
In addition, there were 2 categories of score that Vietnam has improved from the previous surveying edition period including Trade secrets and Market Access; and Enforcement. The rest categories remaining unchanged included Patent, Related rights and Limitations; Copyrights, Related rights and Limitations; Trademarks, Related rights and Limitations; and International Treaties.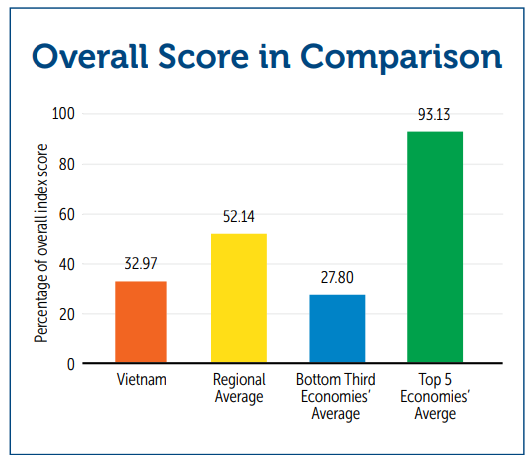 The report also pointed out key areas of strengths of Vietnam such as: Basic IP protections and enforcement framework in place, with stronger penalties for commercial scale infringement; Development of national IP strategy; Growing integration into international IP platforms; Long-standing effort to coordinate IP enforcement; Active promotion of IP rights awareness (though more is needed). Key areas of weaknesses include Inadequate protection of life sciences patents, with challenging enforcement environment; Gaps in copyright protection, including lack of measures to address online infringements; Very high physical counterfeiting rates and rampant online infringement; Enforcement generally poor; penalties insufficient in practice; and administrative inaction.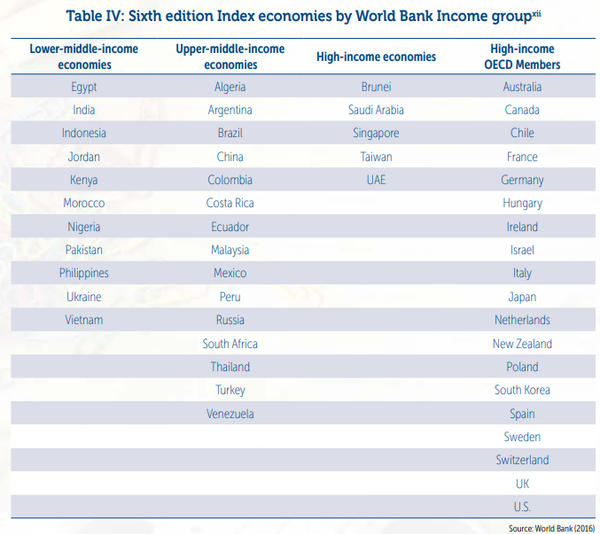 The U.S. Chamber International IP Index, with its 40 discrete indicators covering policy, law, regulation, and enforcement, seeks to answer one simple question: Does a given economy's intellectual property system provide a reliable basis for investment in the innovation and creativity lifecycle. The US, UK, Sweden, France, Germany, Ireland and Netherlands remain atop at the list of most favorable IP environment.
Source: US Chamber of Commerce
Please see the full report HERE