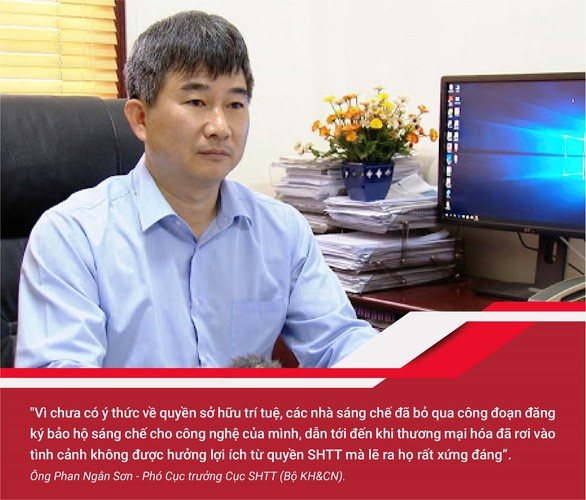 Date: 25-03-2021 by: Banca IP Law Firm
Mastering Core Technology, promoting patent protection in order to improve competitiveness
In the past year, the number of domestic patent applications of Vietnamese organizations and individuals has increased 35% higher than in 2019. Especially, Viettel High-Tech Industry Company has already registered for patents internationally.
If there are many businesses can do as well as Viettel, it will contribute to improve national competitiveness.
The number of patent applications and registrations has increased
Mr. Phan Ngan Son - Deputy Director of the Department of Intellectual Property (Intellectual Property - Ministry of Science and Technology) stated that by 2020, the NOIP received nearly 126,000 applications (an increase of 4.1% compared to 2019). In 2019, the NOIP had processed more than 113,000 applications and granted protection titles for over 48,000 industrial property objects (an increase of over 18% compared to 2019).
However, looking at the list of patents and utility solutions that the NOIP publishes monthly, it is easy to recognize that foreign applicants are still the majority and the number of patent/utility solution applications of Vietnamese applicants is much lower in proportion. According to Mr. Son, the reason for it is because demand for inventions is not high; Vietnam's research capacity remains low; the enterprise's ability to absorb inventions is still limited; the incentive mechanism to create inventions in coporations, institutes and schools is not really effective. "Because there is no awareness of IP rights, inventors have ignored the process of registering for patent protection for their technology, leading to the situation when commercialization, the inventors miss out on all the benefits from IP rights that they deserve, "said Mr. Son.However, it is noteworthy that in 2020, although in the context of the COVID-19 pandemic, the number of patent and utility solutions applications by foreign subjects decreased by 2% while the number of pattent and utility solutions by Vietnamese applicants has increased by 35% compared to 2019.
Aiming for more international patent registrations
Economic experts believe that enterprises should not only focus on domestic patent protection, but also international patent protection. In fact, a number of large enterprises like Viettel already have patents protected in the US.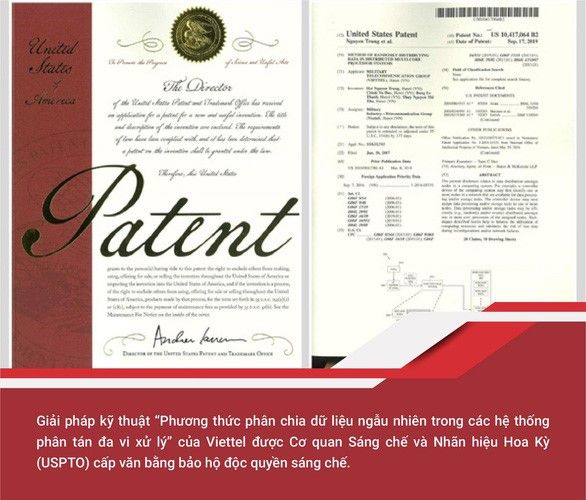 According to Mr. Phan Ngan Son, the most encouraging signal for is that on September 17, 2019, the United States Patent and Trademark Office (USPTO) granted the exclusive patent US 10,417,064 B2. to Military Industry and Telecommunication Group (Viettel) with technical solution "Method of randomly distributing data in distributed multi-core processor systems" Application No. 15/633,743.
"We feel very proud that a Vietnamese intellectual product in the field of telecommunications technology, an area that seems to be the monopoly of developed countries, is protected exclusively in foreign countries. An application for patent registration is the right direction of Vietnamese enterprises in the process of participating in the global supply chain and increasing their competitiveness in the international market. This has ensured Vietnamese enterprises' confidence in participating in the largest science and technology market in the world (the US market), with the motto of going to the big ocean to catch "big fish", Mr. Son affirmed.
Among enterprises that are focusing on patent protection and registering intellectual property rights for their products in foreign countries in recent years, it can be said that the most successful is the Viettel High-Tech Industry Company (VHT belongs to Viettel Group).
Mr. Nguyen Cuong Hoang, Deputy General Director of VHT said: "Up to now, VHT has applied for more than 217 domestic patent applications and 27 patent applications in the United States. In which, 28 domestic patents were registered, 4 patents were recognized in the US ".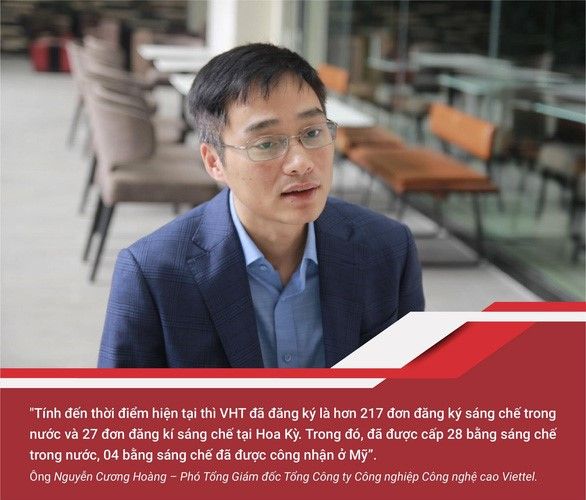 According to Mr. Hoang, those results are not a day or two but a process of careful preparation. After a long period of internal preparation, VHT started to master core technologies, since 2017, the company has started to register for patent protection and after nearly 4 years, it has been able to achieved such impressive numbers.
More government support is needed
However, in registering for IP protection, especially in a foreign country, effort of the enterprises only is not enough. According to many businesses, they also need support from the Government.
Agreeing on this, Mr. Phan Ngan Son said, in parallel with the ongoing programs, in the second year of implementing the Prime Minister's IP Strategy to 2030, the goal is "Number of patent applications. and patent protection titles increase on the average of 16 - 18% / year ".
"One of the spearhead that the NOIP prioritizes to implement is to improve IP capacity and to innovate research institutes, universities and enterprises. These are the main cradles to increase the number of "Made in Vietnam" patent applications and registration. Besides, Vietnamese enterprises in the process of international economic integration also need to strengthen and develop intellectual property ", Mr. Son emphasized.

According to Mr. Son, in the coming time, the NOIP will focus on implementing Decision No. 2205/QD-TTg approving the Intellectual Property Development Program up to 2030 with a radical innovation viewpoint in approaching compared to the period 2011-2020 to contribute to making intellectual property a crucial tool to improve national competitiveness, promote economic, cultural and social development.
"The goal of 2021-2030 period is larger scale, more new content, ensuring full support of content from creating intellectual property to IP protection, management, utilization and development of intellectual property and create a culture of intellectual property; promote innovation activities and encourage enterprises to actively place orders, associate with and cooperate with research institutes, universities to exploit and develop intellectual property, shorten the application of research results into production and business, practically serving socio-economic development goals ", Mr. Son said.
Source: https://congnghe.tuoitre.vn