Date: 27-03-2018 by: Banca IP Law Firm
12 containers of famous brand goods with signs of IP infringement
10/07/2017
On the afternoon of June 23, according to the General Department of Vietnam Customs, the Anti-Smuggling Control and Intellectual Property Rights Protection Unit (Unit 4) of the Anti-Smuggling and investigation Department continued to inspect 12 containers of goods with signs of Intellectual Property infringement.
Earlier, on June 20, Unit 4 made a decision to inspect goods packed in containers belonged to Bill of lading No. 0247A18094. The Dependent Transport Declaration of these containers was registered by Viet Tran Trading Import Export Services and Tourist Co., Ltd on June 16, 2017 at Customs Branch of Saigon Seaport Zone 1.
The above shipment was transported from Guangzhou, China to Cat Lai Port, Viet Nam; and then transported on roads to Cambodia.
On June 21, Unit 4 cooperated with Southern Anti-smuggling Control Unit (Unit 3) and Online Customs Supervision Division (Division 3) of Anti-Smuggling and investigation Department; Customs Branch of Saigon Port Area 1 implemented the said decision.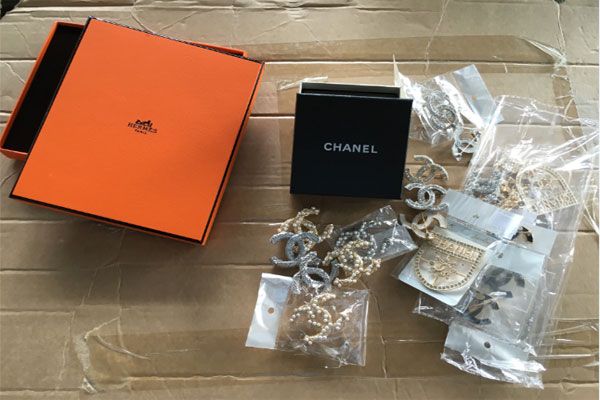 Through the inspection, Customs forces have detected clothing, shoes, fashion accessories, phones, and handbags labeled famous brands such as Adidas, Puma, Converse, Chanel, Hermes; Apple, Samsung, Giorgio Armani which have been registered for border control and intellectual property rights protection in Vietnam. The above goods have a sign of smuggling for consumption in Vietnam.
At this moment, Unit 4 is inspecting 12 containers belonged to 4 companies which registered Declaration of Independent Transport for the above mentioned goods./.
According to Thoibantaichinhvietnam